Help us make ends meet !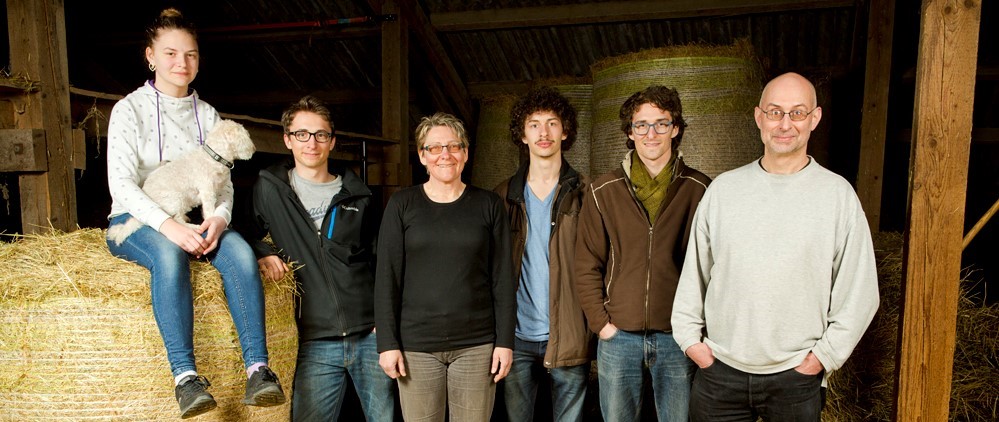 Why do we need your help?
Life on the farm For us it all started in 2003 when Christian's parents retired from the farm, and we moved in with our four children. We favor agriculture for the home market and hope later that one of our children's wish would be to continue family farming.
From our field to your plate While remaining true to our values, we have diversified our production in order to precede our customer's wishes. We now offer: beef meat, eggs, poulets, and special crops such as: oat, oat flakes, flaxseed, flaxseed oil, lentils, chickpeas and buckwheat. In order to offer tasty and quality products, we sort and package all our products ourselves.
Work on the farm We have invested all our heart, energy and savings in the farm. We have grown personally as well, by varying our crops, selling to the community, and becoming innovators in farm sorting. Our crop goes directly from the field to the farm, and is processed by no other entity. We now really need more space to work efficiently and with pleasure. That is why we have the project of building a new building since 3 years.
Hope, disappointment and search for funding After a year and a half of paperwork we finally received the authorization to build ! But even with accurate and well controlled quotes we have overcosts because of unexpected authorities requests.
Why do we need your help? We are looking for 70'000.- to improve our working conditions.
40'000.- to collect our waste water and carry it through a pipe to the sewage treatment plant. When we started farming in 2003 we already invested to treat the waste water according to the law. In the meantime the regulations have changed.
30'000.- to make a store in the new building, in replacement of our existing self-service, a room to pack our products and a laboratory to prepare our farm products.
Once these two conditions will have been realized, they will indeed improve our daily life. By splitting professional and private life, with the laboratory and the packing room, our family life will be more enjoyable. The connection to the sewage treatment plant will ease the transmission of the farm to the next generation, as this solution does not depend on changing regulations.
Unfortunately, the realization of these two conditions endanger our financial balance. The official requests appeared very late in the project and would have delaying the construction by one year. Because of Christina's health problems, this was really not possible.

That is why we need your help to overcome this unexpectable hurdle.
Thanks to you 69'890.-, that is 99%, have already been collected !
How does it work?
We commit to using the collected funds only for the construction of the preparation rooms, the store and the collection of waste water. The funds are collected on a bank account dedicated to this sole use.
We will show you around the new building during our VIP* open day.
*Very Interested Person (personal definition...)
During animated family sessions, parents and children invested themselves in this crowdfunding project. Our son Lucien took over the management of the gifts and the updating of the web site. We will send you newsletters as the project goes on.
To show you how thankful we are, we offer a choice of 6 counterparts. They are describe below, and you can make your choice by filling the form. You will receive a confirmation mail stating if you are a donor or volunteer (or both !). In the mail you will also find our bank details.
Should you have any questions, do not hesitate to send a mail to info@ferme-iseli.ch
We thank you for you generosity.
Choose a counterpart: they are valid for 1 or 2 adults, and accompanying children. All donors and volunteers will be listed in our store (unless not wishing so).
Donors and volunteers, use the form to register.
Events to come in 2018:
Group visits (counterpart group visit)
VIP* open days for all donors, with guided visits of the new sections of the farm and our activities (in English or French), welcome drink and goodies included. The chosen date is august 31st.
*Very Interested Person
Public open days with guided tours of the new sections of the farm, local producers market and food stands (1st and 2nd of September)
Volunteer's brunch